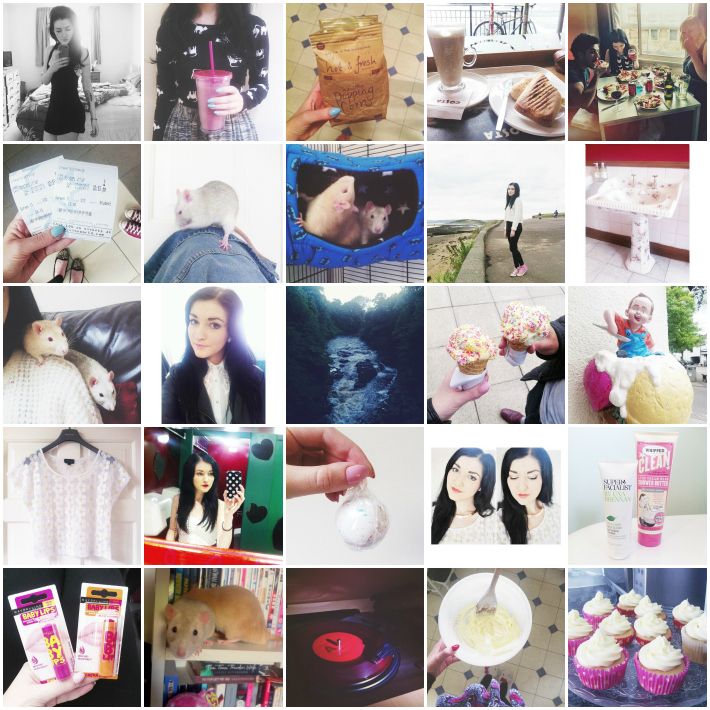 Sleepy selfie // Cats and smoothies // Popcorn time with Walt // Lunch with my sister // Pizza time with Swedish lovelies // Monsters University // Casual wash on the back of the door // New Batman house // Being awkward at the beach // One of the prettiest little sinks at the Balmoral hotel // Shoulder slugs // Another selfie // Nice to stand here and think // Ice creaaam // Creepy wee demon child // Topshop daisy tee from ebay // Night out // Goobstooper // Makeup from blog post // Shower treats // Finally got these, love them // Shelf babies // Found a record player and some records // Icing cakes in my hello kitty slippers // Finished cupcakes
Favourite music: Been listening to a lot of Summer Camp after rediscovering them due to their latest song 'Fresh'. I first fell in love with them after seeing the video for 'Round the Moon' which features footage from A Swedish Love Story.
Favourite tv show: They're always favourites of mine but I love that there's been new episodes of Happy Endings (Penny needs to be my bff) and New Girl (the Jess & Nick tension is just the greatest).
Favourite product: Definitely my Maybelline Baby Lips - they smell sooo good and the colours are really pretty. Also my little bottle of Nails Inc polish in the shade St James. Perfect red shade and lasted well.
Other:
This video
for Spiritualized's 'I Am What I Am'. Powerful and featuring Rory Culkin, mmm.